Student Teaching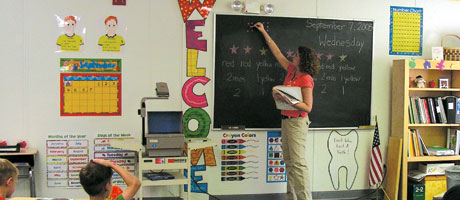 Practical experience prior to professional work
Our program will provide you with more than 200 hours of teaching experience before student teaching. You can take part in three 60-hour practicum in special education settings, and in student teaching, you will observe, teach and participate in professional activities under the direction of the cooperating teacher and the University supervisor.
Teaching in the Missouri State service area
Students are placed in special education classrooms in the Springfield area for 16 weeks. Eight weeks will be spent in an elementary level classroom, while the final eight weeks will be spent at the middle or high school level. In their assigned classroom, students will teach individual lessons, team-teach with regular education teachers and assist with developing individual educational plans.
Teaching outside the Missouri State service area
Students may apply to student teach in another state or country. Out-of-area student teaching includes two, 8-week placements in different schools and grade levels. A student teaching supervisor is assigned to each candidate to supervise the candidate and to consult with the classroom teacher.
For more information about student teaching and other field experiences, contact the Professional Education Services office.