Supervised Practice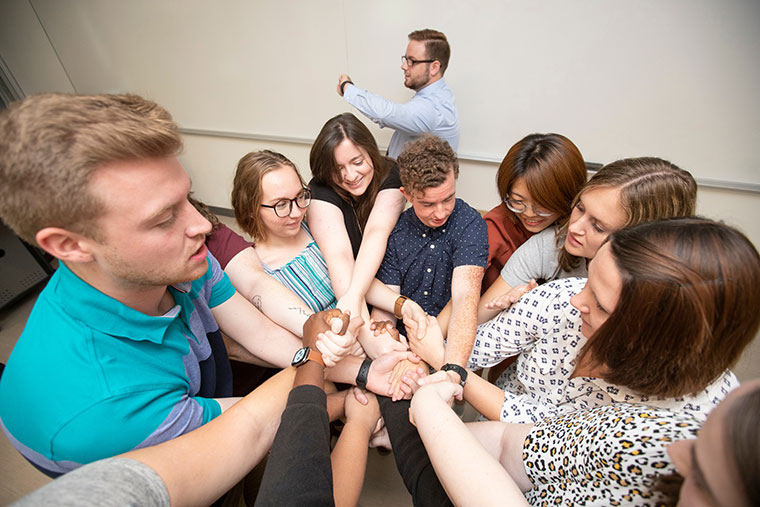 Supervised practice, hands-on learning
To complete our program, you must complete 300 hours of supervised practice in a student affairs program. According to CAS Standards students must complete two distinctive supervised practice experiences. Students can use their Graduate Assistantship and practicums to fulfill this requirement. Full-time professionals can meet the requirement through SAE 747 by completing a reflective project parallel to a master's thesis. Specific provisions of our practicum policy include the following:
As a graduate student, you are responsible for negotiating practicum placements with potential practicum supervisors. Developing a meaningful practicum experience will require that you begin networking with potential site supervisors before the semester that you begin your practicum.
Your negotiated agreements should be formalized in a learning contract along with your site supervisor.
You will be required to establish a weekly practicum schedule of approximately 5-7 hours.
Additional options
If you are employed full-time, you can meet the class requirements by developing a year-long practicum over two semesters or completing a special project related to your employment. If you are interested in the two-semester practicum and your site supervisor agrees to this option, you must send an email to the SAHE Program coordinator to verify this arrangement. Students should expect approximately 8 hours per week at their practicum site. Full-time professionals registering for SAE 747 should meet with the SAHE Program coordinator regarding specific requirements.
SAHE Practicum Handbook
With experience serving as a vital tool in education, a practicum opportunity is one of the best possible ways of learning firsthand what is necessary in the field. Visit the Practicum Handbook to explore the expectations for the SAHE Practicum experience.
Some of the offices that offer practica positions are:
Admissions
Campus Recreation
Career Center
Dean of Students Office
Disability Services
Financial Aid
Fraternity and Sorority Life
International Student Services
Judicial Programs
Magers Health and Wellness Center
Plaster Student Union
Registrar's Office
Residence Life, House and Dining Services
SOAR
Student Activities
Education Abroad Programs
TRIO Program