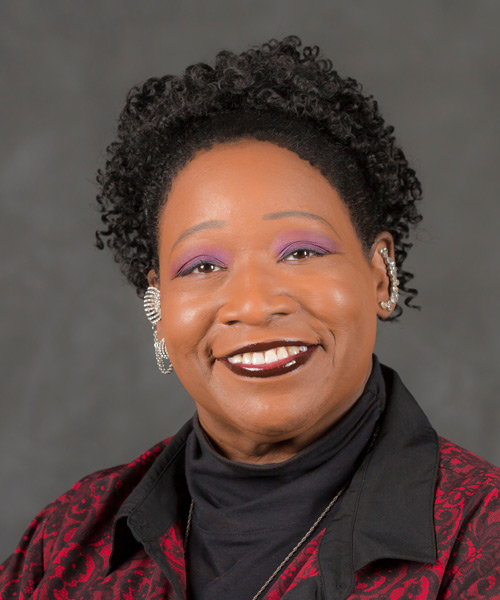 ---
Department
Childhood Ed and Family Studies
Role: Faculty
Campus: Springfield
---
Postal mail
Missouri State University
Childhood Ed and Family Studies
901 S. National Ave.
---
Biography
Dr. Sabrina Brinson is professor of childhood education and family studies. Her primary lines of research include diversity, multiculturalism and social justice, with an emphasis in African American studies; culturally responsive literature; and social, emotional and moral development.
Brinson publishes results in international and national journals, such as Contemporary Education, Multicultural Perspectives and The Dragon Lode-Journal of the International Literacy Association. Likewise, she presents papers at international and national conferences, such as the Conference for the International Literacy Association, the Hawaii International Conference on Education, the Conference for the National Association for Multicultural Education and the Conference on Academic Research in Education. Her crowning principle is, "Diversity, equity and inclusion should never be an afterthought, a fleeting thought or a superficial thought."
Currently, she serves as coordinator of the university-based Mentoring, Support and Partnership Program; creator and advisor of the student-led Diversity Task Force; creator and coordinator of the We Heart Our Veterans initiative; creator and coordinator of the Real Men consortium; chair of the Student Day Planning Committee for the 2016 Statewide Collaborative Diversity Conference; co-chair of the Diversity Coordination Task Force; and member and former chair of the African American Studies Committee.
Brinson is the founder and national director of two award-winning national, community-based, literacy programs: Boys Booked on Barbershops (B-BOB) and Girls Booked on Beautyshops (G-BOB). The programs are designed for youth (ages 1-18) to increase their reading interests, reading practices and literacy development. Reading nooks with literacy tips for parents and a variety of high interest, culturally responsive books are set up in barbershops and beautyshops (and other community sites) across the United States. The programs are in partnership with 22 organizations to date. Picture it, boys and girls reading and/or being read to while waiting for their turn in the barber's or beautician's chair.
She is also a member of several professional organizations including the National Association for the Advancement of Colored People (NAACP), the National Council of Teachers of English and the International Literacy Association.
---
Details
Education
PhD, Curriculum and Instruction: Early Childhood Education and Reading Emphasis, 1998, University of South Florida
MA, Special Education: Behavior Disorders Emphasis, 1992, University of South Florida
BA, Psychology, 1985, University of South Florida
BA, English Literature, 1985, University of South Florida
AA, General Studies, University of South Florida
Teaching
CFD 150 Introduction to Child and Family Development
CFD 155 Principles of Human Development
CFD 305 Multicultural Studies in Child and Family Development
CFD 560 Family Engagement
CFD 563 Administration of Programs for Children and Families
CFD 580 Introduction to Research in Child and Family Development
ECE 711 Proposal Development
ECE 575 Working with Culturally and Linguistically Diverse Children and Families in Early Childhood
ECE 762 Seminar in Early Childhood and Family Development
EDC 345 Introduction to Multicultural Education and Diversity
Professional experience
Affiliations
National Association for Multicultural Education
National Black Child Development Institute
National Council of Teachers of English
National Association for the Education of Young Children
Midwest Association for the Education of Young Children
Ozarks Association for the Education of Young Children
International Literacy Association
National Association for the Advancement of Colored People
Women in the NAACP Standing Committee of the National Association for the Advancement of Colored People
Education Standing Committee of the National Association for the Advancement of Colored People
Research and professional interests
Diversity, multiculturalism and social justice with an emphasis in African American studies
Culturally responsive literature, pedagogy and practices
Social, emotional and moral development
Awards and honors
Higher Education Policy Analyst for Missouri, Policy Analysis Initiative, 2017
Drum Major Award, NAACP Springfield, 2015
Additional resources
---
Area of expertise
Education and literacy
Diversity