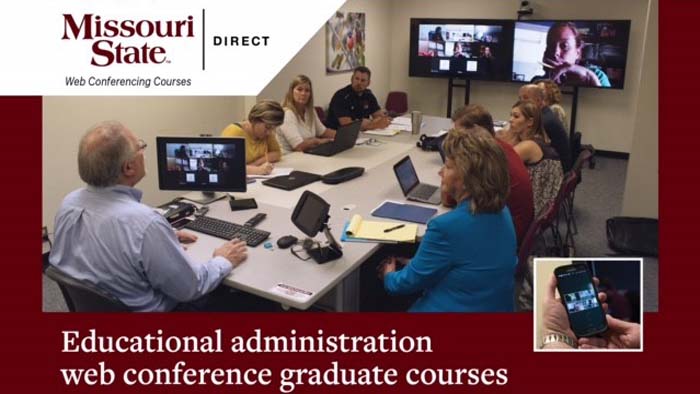 Missouri State Direct
Take courses from anywhere in the world in real time. Attend face-to-face or using the internet via computer, phone, or other mobile devices.
Educational Administration Graduate Program
Influence parents and students when you assume a leadership role as a district and building level administrator, director of special education, or department head.
8 reasons why you should attend web conference courses at Missouri State?
MSU is an accredited institution with an outstanding reputation.
MSU offers lower tuition and fees than other "satellite" campus programs offered by private institutions.
Rigorous curriculum prepares you for real-world experiences.
Master's, and Specialist are available.
All classes taught by doctoral faculty, who are former practitioners.
Web conference classes allow you to take courses anywhere in the world.
Connect to your class, via the internet, using your PC or device embedded with audio/video capabilities.
Engage in "real-time" conversations with your instructor and classmates.
If you are considering or prepared to begin working on your Master or Specialist in Educational Administration, START here to get answers to your questions.
Inside current students will find the resources they need to move forward while in the program.
Our faculty have over a century of building and district level administrative experience. They are prepared to answer your questions and advise you on the most efficient path to accomplish your goals.

Loading